Immersive images are all about experiencing a place, and a fireworks display is definitely an experience! A Tour de Force brings it to life virtually. Bursts in front and behind you. Reflections in the water and windows. Bursts light up the crowd below. And don't forget the sound. (Turn up your speakers.)
Still images can capture beautiful moments. Video can show events over time. But both are passive and singularly focused. The viewer remains an outsider. To experience an event or place–to get a sense of actually being there–you need to be in control, looking where and when you wish, seeing everything in context. Animating action and adding sound heighten the realism significantly.
A Tour de Force 360VR is unique in its ability to bring it all together, to actively engage the viewer. It is the next best thing to being there. You get the "best seat in the house" without battling massive crowds or worrying about the weather or parking. And of course that experience is available 24/7 worldwide.
Now ask yourself, does viewing this make you want to experience it in person more or less? Almost nobody will say less. Tour de Force 360VR is a very effective way to market as well as share.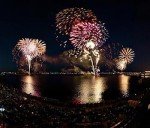 Warning: With all the surrounding action this Tour de Force will really challenge some computers. If you are unsure try the SD (standard definition) version first. It could also take some seconds for the fireworks to appear. Fast computers with fast internet connections should have no problem, including in full screen.
Experience the Lakefront Fireworks.