A big advantage
of working with Tour de Force 360VR is our ability to produce Google Virtual Tours and more engaging custom tours. Both have unbeatable advantages. Below are a couple comparisons along with other Google tours.
Tip: Many people find it easier to navigate Google tours using keyboard arrows. Left and right arrow to turn. Up and down arrows to move forward and back. You still need a mouse to look up and down.
In Google tours you click and drag the image. When you stop dragging movement stops. With the custom tour you click and move the mouse in the direction you want to look (as in computer games). The farther you move the faster you turn and you keep turning until you release the mouse. The mobile version of both tours use the Google style.
Woman's Club of Wisconsin

Google Virtual Tour
(Follow Stairs to Ballroom)


Custom Virtual Tour

The Woman's Club of Wisconsin wanted both Google and custom virtual tours. They show off the club both to prospective members and those looking for a remarkable event venue, especially for weddings. The custom tour includes both voice and text tour guide, background music, an interactive floor plan as well as thumbnail navigation.
While exploring the Google tour be sure to follow the stairs up to the Grand Ballroom. One advantage of a custom tour is that it can be easier to make sure viewers don't miss anything important, for instance with a thumbnail for each location.
The Rotunda Banquet Facility

Google Virtual Tour


Custom Virtual Tour

The Rotunda wanted both Google and custom virtual tours. The minimal Google tour gave them most of it's advantages, showing off the premier feature of the banquette hall, the rotunda itself, plus all the search engine and map advantages at a minimal cost. Having caught their attention, visitors click through to their website where a more advanced custom tour is offered.
Before these virtual tours The Rotunda came up number 4 or 5 in local search results. After just adding the Google and custom tours they now rank number 1.
Next Act Theatre took full advantage of both Google and custom tours. The Google tour provides a complete walk-through of the new theater. The custom tour fills it with people who don't need faces blurred, unlike with a Google tour. Sound, switching between plays, drop down text with more information and more features create a rich, engaging and highly interactive experience. But.... only the Google tour can appear right in search results, maps and more at a price that can't be beat.
Manderley Bed & Breakfast Inn
Try the multi-floor widget on the right to jump directly from room to room.
More Than Rewards
Integrated games, many jokes, secret messages, lots of personality and demonstration of "gamification"
JB's on 41 Bowling, Grill, Games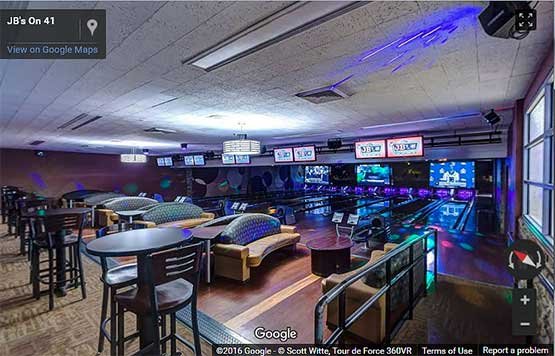 JB's on 41 really leveraged their tour by embedding different start points on their website, showcasing the bowling alley, game room and grill. Check it out.
Vandervest Harley-Davidson
Vandervest Harley-Davidson showcased not only their dealership but also their two event venues. Use the multi-floor widget at right to move from one to the other.
Schlossman Honda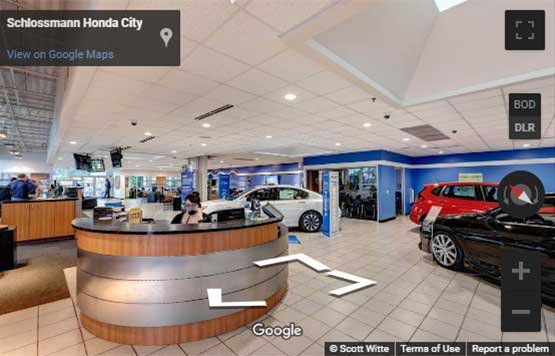 Kesslers Diamonds - Germantown
Shabahang and Sons
Faye's Boutique
Pizza Shuttle
88Nine Radio Milwaukee
VICI Beauty School Milwaukee
Barden Orthodontics
Knuckleheads Tobacco & Gifts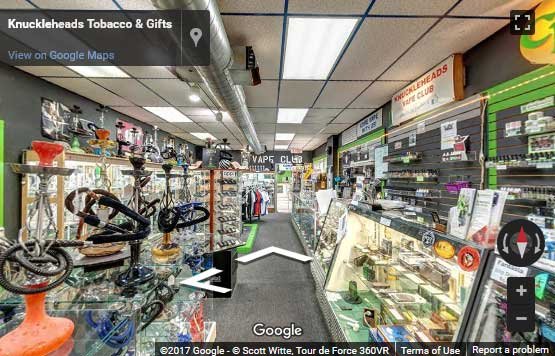 Lake Geneva Harley-Davidson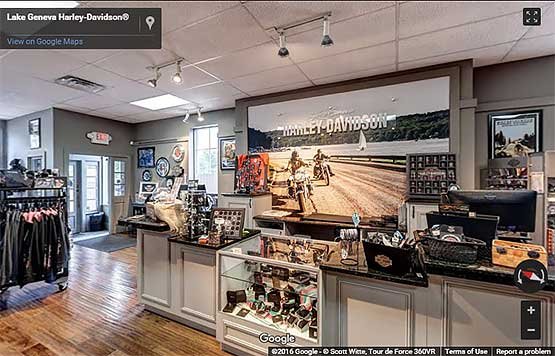 Why Tour de Force 360VR?Only a Google certified "Trusted Photographer" such as Scott Witte can provide this service. He has won major awards for both his virtual tour productions and advertising still photography. He brings both to play when creating the most effective tour experience for you.
Unlike other Google tour photographers Scott is able to use these skills and knowledge to process, HDR blend, color balance and stitch tour images himself rather than using Google's automated tools. This guarantees you the highest quality imagery that best shows off your business.
For a free consultation and estimate please call Scott at (414) 345-9660 or