The Warner Grand Theatre on Wisconsin Avenue was built in 1930 as perhaps the grandest of movie palaces and Vaudville venues in the state. It closed in 1995, remaining unused and deteriorating since then. Now the Milwaukee Symphony Orchestra hopes to convert the long vacant acoustic marvel into their new performance space.
The MSO has considered the theater as a possible home since at least 2000. 9-11 and the crash of 2008 prevented them from moving forward until recently. The $120 million needed to complete the project is now secure. Restoration is in progress and scheduled for completion prior to the 2020 symphony season. Milwaukee architectural firm Kahler Slater is leading the project to transform the building.
After more than 20 year of disuse the building had deteriorated. Falling plaster, non-working lighting and other hazards mean it couldn't be open to the public. But thanks to this tour anyone can visit -- virtually. In some ways you may even see more, thanks to our suplimental lighting and HDR image processing. The virtual visit is proving a great way to build awareness buzz and as a fund raising tool.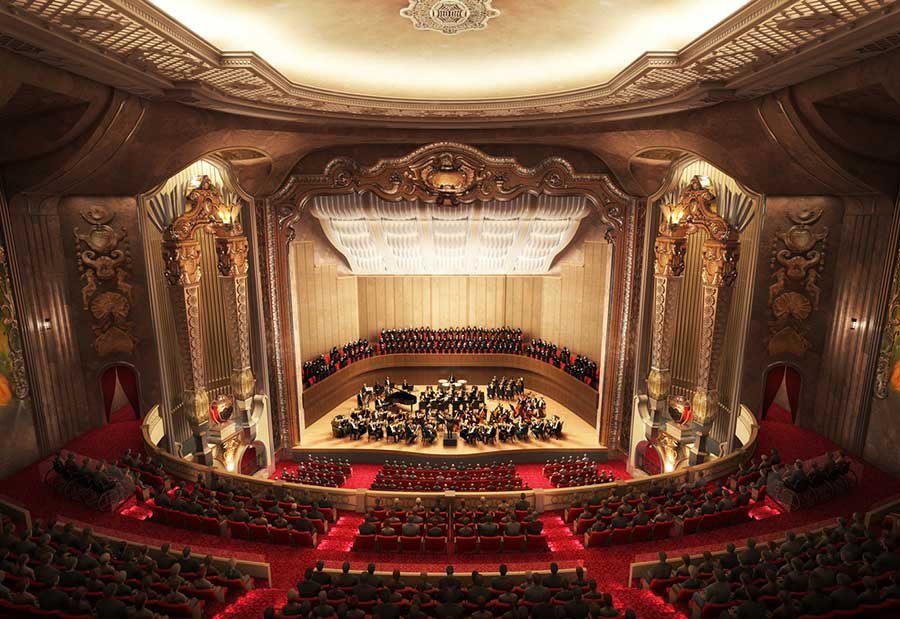 Rendering of the Grand Theatre after restoration. For more visit Kahler Slater's post.
To learn more of the story behind the tour's creation, its premier as an experiential event during Newaukee's Night Market and its reception, check out our blog post.
To learn more about the MSO's plans for the theater check out these articles in Journal Sentinel and the Milwaukee Business Journal.
For more 360 interactive images and virtual tours visit the main Tour de Force 360 website.